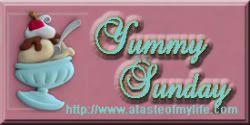 I have tons of pictures and stories waiting to be blogged about. Looks like I have been procrastinating a lot lately.
Anyway, here is one of the pictures waiting to be posted. This was taken on Maxyn's exact birthday. We had a simple celebration here at home where we had some pasta, roasted chicken, barbeque and this delicious cake.
This is a Red Ribbon Dedication Cake. It is pre-made and you just have to tell them the message you want for the cake. The liked this very much because it is not too sweet unlike the other chocolate cakes.